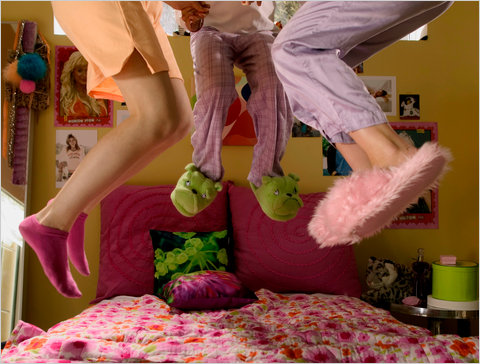 Ok, so my daughter had a sleepover last night at our neighbors house. It wasn't her first sleepover, it was technically her third. The first time counts but not as much because it was at her Aunt Karen's house. You know, familiar person and surroundings, etc. Although it was a very big step for both Abby and her crazy parents that can't breathe without her.
The first "Real" sleepover was a few months ago at a neighbor's house that literally lives 4 houses away. Ilyssa and I were waiting for that phone call at 9-10pm of a desperate little girl asking us to come get her so she can come home. But that phone call never came. My wife texting our neighbor periodically until bedtime to make sure she was safe and sound asleep. And even after that we still thought we would get a phone call at 1-2am….but we didn't. We woke up the next morning to find out that she didn't want to come home and she still wanted to stay and play a while. So the ice had been broken….she can handle staying over without Mom and Dad.
Is this the beginning of losing her? I can't take it…..
The sleepover last night was at our neighbors house that is 2 houses away in our Cul-de-sac. The event was planned days in advance and leading up to it Abby was very excited. She was packed early that morning. While packing (5 bags mind you) her mom told her that she needed to downsize a bit. The biggest items are usually the stuffed animals that she "Needs" in order to sleep. Well, mom went shopping and gave daddy the instructions to help her pack 1 bag and get ready. So, we proceeded to do so. The dilemma came when we got to the stuffed animals. So we compromised with a lot of pain in between, but she was allowed to bring her unicorn, her panda and her puppy but needed to leave the rest home. She cried a bit and stormed out of her room with one of her favorite bears. She came back moments later (without the bear) and just a bit teary eyed. I asked what she was doing and she said "nothing, I'm ok now". I left it alone and we finished packing.
Moments later, the neighbors were knocking on the door and was one her way.
Most parents would be excited about this and begin to rejoice the freedom and some peace and quite. But I usually get a little sad because I won't have my little buddy around and of course I need to always be entertained like a 5-year-old. My wife was still out, but we decided that we would go out to dinner as we had this bit of freedom. So I proceeded to our bedroom to get dressed for our date when I stumbled across this on our bed.
In case you can't read the purple writing on the tablet, it says "Mommy can you take care ove my teddy bear, Love Abby"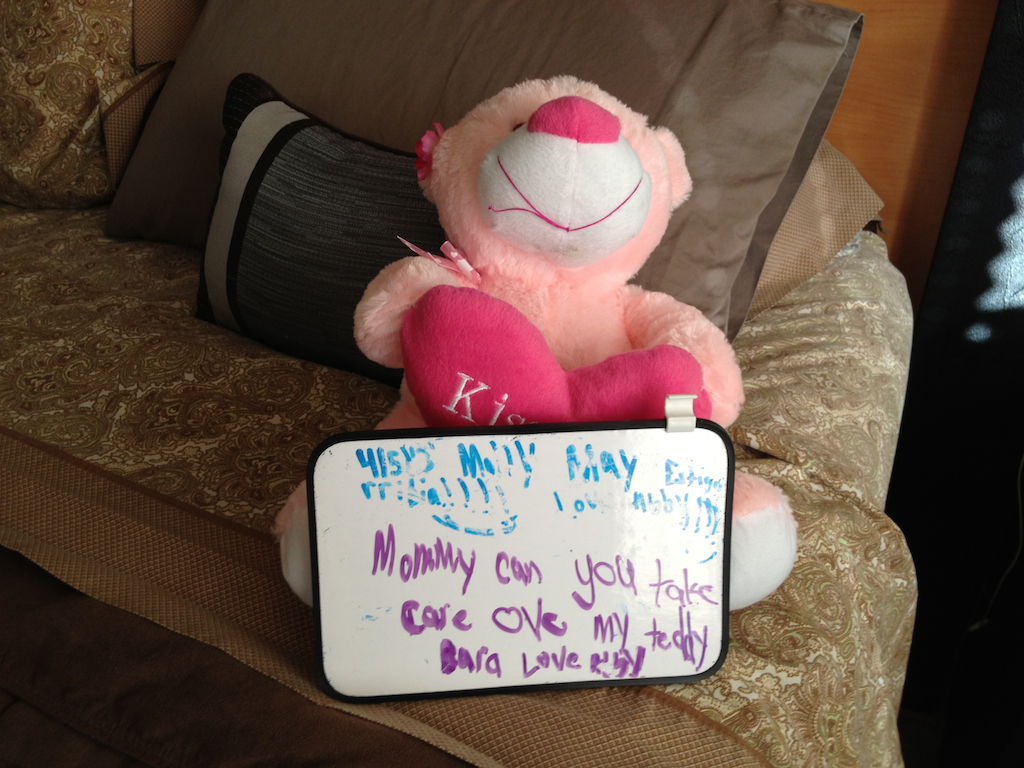 I literally got teary eyed when I saw it. I think it may have been the sweetest thing I've ever seen Abby do on her own like that. When my wife saw it she felt the same way. Needless to say, Ilyssa slept with the bear that night. I was luckily not on the couch….
As for Abby, well while I sit here writing this post she is still at our neighbors house. It's now after 11am and she just called us to ask if she can go to the mall with them this afternoon. I know it's inevitable that your kids eventually begin to separate from you a bit and become independent, but no one ever said you have to like it. Although I am extremely proud of her and happy that she is having a good time, I still miss her dearly and can't wait for her to come home later.