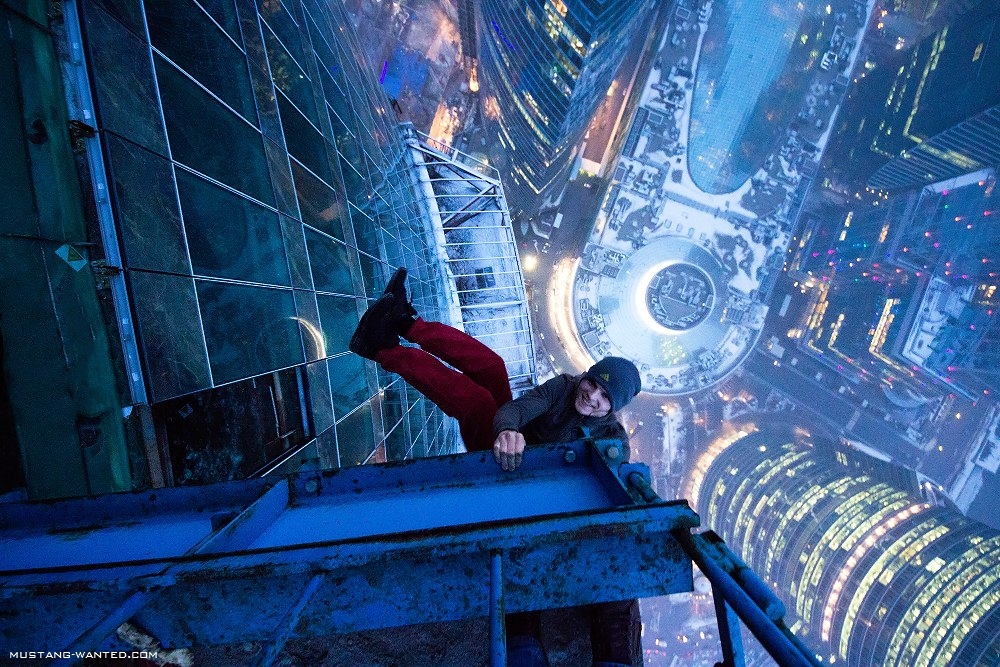 I have a bit of a problem with heights. To be more precise, I have a fear of not being in control of the height. I have no problem with flying for instance because while I'm in the plane I feel safe that I won't "Fall" out. But if you put me near an edge of a cliff or on a balcony of a tall building that doesn't have a caged in fencing to protect me from falling off I get anxious and completely freaked out.
About 12 years ago a friend of mine lived on the upper east side and while at a party one night at his place he invited us to the rooftop. Pretty cool, we were having some cigars and having some fun. No problem. He asked me if I wanted to see a nice view of the city from the other side of the roof and I said sure. Well, what he didn't tell me was that I had to swing over to the other side of the roof by dangling my feet over the edge of the roof and swing over to the other side. This required a very simple task really. You literally would sit down on the edge of the roof and flip your feet over to the adjacent corner of the roof. The building was about 50 stories high by the way. He of course did it by jumping up on the edge and swinging his whole body over in one swoop. I told him that there was no way I could do that. After a long debate and I guess because I was drinking a bit, I decided to go ahead and try this and luckily I am here to talk about it today. I sat on that edge and swung over to the other side. The view was nice, but I don't know if it was worth the effort to see it. It was by far the most fearful thing I've ever done with regards to heights and my logic in doing it was purely to try to combat this problem I have. Well, it failed. I still have the fear and when I think about this story today I say to myself "what the hell was wrong with you that day, why did you even put yourself in a situation where you could have literally died".
You ask why I'm even talking about this today? Well I saw a video yesterday that reminded me of that day and figured I'd blog about it and share that story, but more importantly wanted to share the video(s) I found on this russian kid. He calls himself Mustang-Wanted. To me he is completely crazy, but to him and many others that are fearless of things like this it must be somewhat normal or maybe even a rush. He says in one of his videos that he does feel fear, but he's simply learned to overcome it. Simply for some I guess.
As for me, I can barely watch these videos without my hands getting clammy and my heart racing. I kind of envy people who have the ability to do this but I think he is completely nuts and has no regards for his life by doing what he does. One small mistake and its over.
Then again, who am I to judge right? I'm sure he enjoys this "Hobby" as much as I enjoy a round of golf.
Anyway, here are some links to some of the videos that I saw that literally made me queasy simply watching them.
He's also on Facebook – Mustang-Wanted Facebook Page
How do you deal with heights? Anyone else have this fear?
http://www.youtube.com/watch?v=ajVurrUvELc