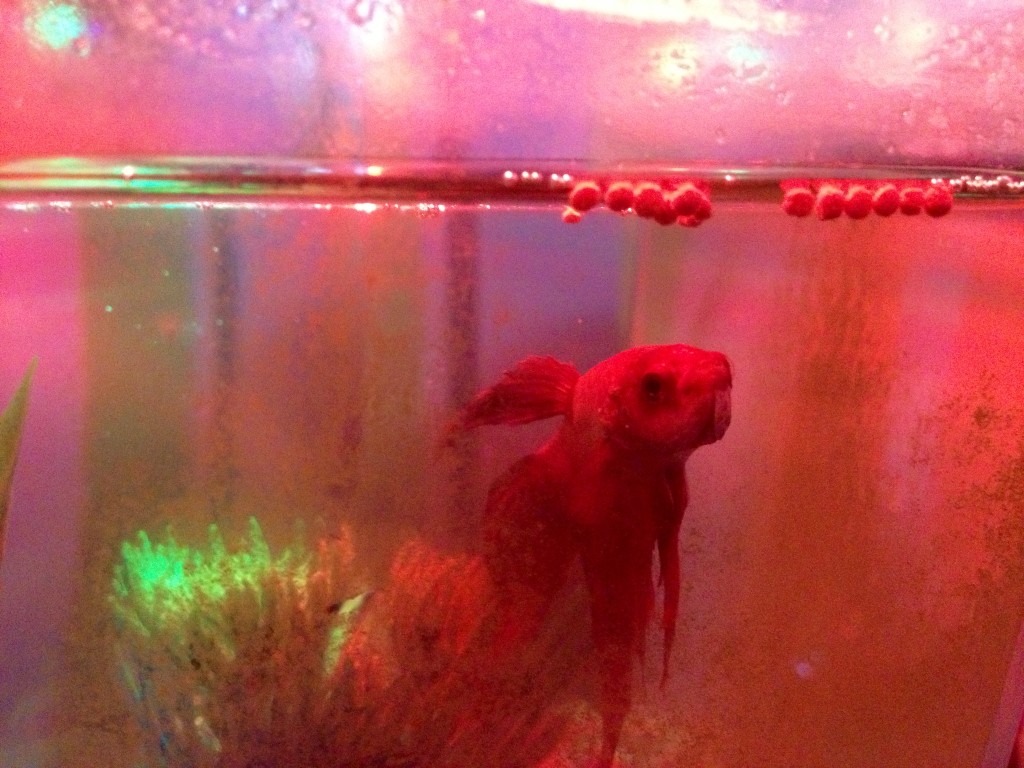 Today is a sad day for the Estigarribia household. Abby lost her pet Betta fish Bubba today. He was over 4 years old (taking into account that when we got him he was almost a year old). Which in Betta fish land is a pretty good lifespan for a fish that is in a 1 gallon bowl with no filtration system.
Bubba came to our family as a Hanukkah gift to Abby in December 2009. I think that Abby has learned quite a lot from this fish. Some of the experiences that I can remember talking to her about with regards to Bubba included mostly questions about life itself. Early on she questioned why Bubba lived alone in his tank and didn't have friends. We had to explain to her that Betta fish are not fish that really enjoy each other's company. She also questioned life itself. She asked us how long Bubba would live. We wanted to ensure we prepared her for the inevitable so we explained that the lifespan of a Betta fish is usually not more than 2-3 years. This prompting her to associate death with people and herself too. Which is not an easy subject to discuss with a 4 or 5-year-old, but it is part of life. I'm sure at the time she was a bit confused but over time she's obviously getting a full understanding of the concept of death. She was sad about the fact that eventually Bubba would possibly die. But understood it.
As the years past we taught her the importance of keeping Bubba fed, his tank clean, and how he was her pet. Abby being very loving in nature accepted this responsibility and always kept on top of things. Over the last few months Ilyssa and I suspected that Bubba was getting old and would not make it through the summer. You could see that he was slowing down. So we started to talk to Abby about it and started to prepare her for what happened today.
Despite all the preparations, it was quite sad this morning when she discovered that Bubba was not moving. Tears rolled down her eyes as she came to me with the news. We held her and consoled her for a few moments and I promised her that when she got home from school later today that we would have a proper burial for him in our backyard. I'll probably be tasked with doing the eulogy….what do you say about a fish? "Bubba was a good fish, he swam. He swam like no other fish…" Ok, that's a good start!
I am sure that after a week or so we will go to the pet store to get another Betta fish for her. This is another thing we've told her throughout the years. A new friend will come into her room to keep her company for another 4-5  or longer years. Life will go on…but Bubba will always be remembered in our hearts.
Rest in Peace Bubba! 12/09 – 4/13.