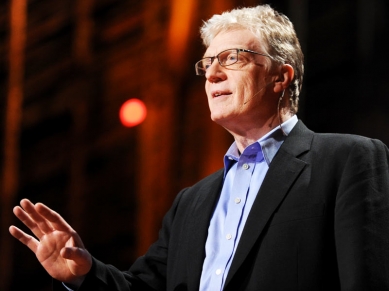 I saw this guy live a few years ago at an IT conference and his talk still resonates in my mind. I've since watched it several times and have also seen his most recent talk on Ted as well. Equally impressive. His first talk on Ted is most watched TED talk worldwide.
His philosophy and thoughts on education have made me think twice about how to raise my daughter through her years of schooling that are yet to come. He makes valid points on how we, as a society somehow have managed to "educate our children out of creativity".
He argues that we need to stop having reform or evolution in education, but rather we need to have a revolution in education.
I hope you spend a few minutes to watch these two TED talks. If you have children, I urge you to watch and listen. His presentation skills are great, he uses humor to break things up and makes watching him extremely entertaining and wanting to hear more.
Here are the links to the two TED Talks he's had:
Schools Kill Creativity
Bring on the learning Revolution
Some of my favorite quotes from his talks:
"Creativity today is as important at literacy, and we should treat it with the same status"
"If you're not prepared to be wrong, you will never come up with anything original"
"Creativity as I define it, is the process of having original ideas that have value"
"Human communities depend on a diversity of talent, not a singular conception of ability"
There was no way I was leaving this one out of my blog. He's on the "A" list.